Day Care: How to Choose the best Day Care for your Child
When choosing a day care facility for your child, you want dependable, reliable child care. More than that, you want an environment in which your child can thrive. If you can't be a stay-at-home mom, then you want your child to be in the best possible hands.
Although a licensed facility with trained workers is a must, here are some important questions to ask a preschool administrator before you enroll your child:


1. What is the school's philosophy of day care? The child care facility should have a philosophy that details how they care for children. Ask to see it in written form. Some child care facilities may have a mission statement. If so, ask to read it.


2. Ask how the child care facility encourages child social development. Their program should be designed to promote cooperative play and the development of social skills. There should be a time for structure play and a time for free play. Unstructured play is important because it allows a child to be spontaneous.


3. Ask the preschool director about their philosophy of learning. For instance, when my eldest son was four, he started at a preschool that did not advocate early reading and writing skills. The director believed that this was important later in a child's development. Instead of teaching kids their letters, they stressed natural sciences and math. The kids learned about animals, went on nature walks and learned to count by kissing their fingers. In this way, the kids learned how to do simple addition and subtraction. Most day care facilities support child learning through a variety of activities, such as storytelling, art projects, field trips and structured and unstructured play. Whatever the day care's philosophy, make sure they support children's cognitive development through a variety of structured and unstructured activities.


4. Ask how the facility handles temper tantrums and child behavioral problems. Make sure their policies are similiar to your own, so your child won't be faced with different sets of rules. This can be confusing to a child.


5. Does the facility have a Family Night where you'll be able to meet the parents of other kids? It is helpful to get to know the parents of the children with whom your children play. (You may find as your child grows older that your children start to choose your friends--you tend to become friends with the parents of your children's friends.)


6. How much parental involvement does the school require? Many preschools and day care facilities require that parents volunteer to work a certain number of hours per year per child. Sometimes the school will take donations (such as books and toys) in lieu of actual working hours. Many parents are shocked to discover that although they pay for their child to attend preschool, they are also expected to volunteer their time. See this as your way of making a positive contribution to the school and staying actively involved with your child.


Remember that the philosophies and standards at the day care facility will be reflected in your child's development and behavior. Choose your child's preschool facility wisely.


If you still feel uncomfortable with the thought of leaving your precious child in the care of others, consider opening a day care of your own. By starting a day care facility, you can participate fully in your child's development and hand select his playmates. You can also earn some extra money. If you love children this is a great service to provide to other families. Below is our top recommendation on how to start a day care. It comes with everything you need to run a day care business in a facility or from your home.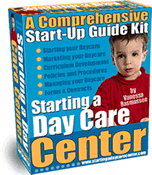 Need more information? Search Google below:
This article may not be copied in full or in part without the express written consent of the author.
To subscribe to Family Matters! Parenting Magazine, type in your name and email address below or send a blank email to Subscribe to Family Matters!Note: Subscribers who are not willing to give their first and last name will be removed from our list.
To return from Day Care to Child Education, click here.